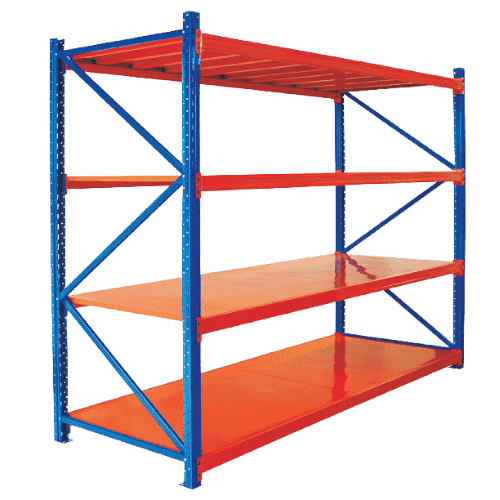 Do you require Heavy Duty Pallet Racks?
Heavy Duty Pallet Racks Manufacturers are a vital component of warehouse storage systems. They are an essential component of companies involved in manufacturing, distribution, and logistics because they provide a secure and effective means of storing large and heavy goods in your warehouses and industry. The subject of heavy-duty pallet racks will be covered in this article, with an emphasis on manufacturers, their applicability, and the many elements that go into making these durable storage options at the Best Quality and Cost-Effective solution.
For warehouse and industry operations to run efficiently and to ensure the safety of goods, high-quality heavy-duty pallet racks are essential. Inadequate racks may result in accidents, harmed goods, and increased overhead. Consequently, it is imperative to purchase sturdy pallet racks from Beeco Storage Systems, which was founded in 1986 and is well-known for its superior products.
If you have any questions about Rack or would like more information, do not hesitate to contact us.
Selecting the Heavy Duty Pallet Racks Manufacturers
Making an informed decision entails carefully weighing a number of aspects. In the sections that follow, we will walk you through the critical factors to consider when selecting a trusted manufacturer Beeco Storage Systems.
Factors to Consider When Selecting a Manufacturer
Material Quality

Rack Design and Engineering

Customization Options

Price and Cost Efficiency

Lead Time and Delivery

Customer Support and Warranty

Top Heavy Duty Pallet Rack Manufacturers
We will present you to some of the leading heavy duty pallet rack manufacturers that are well-known for their high-quality goods and services.
Heavy Duty Rack Types
Discover the numerous varieties of Heavy Duty Rack peoples are searching on Google and market, each catering to a distinct storage requirement at Beeco Storage Systems.
Heavy Duty Metal Shelving

Heavy Duty Storage Racks

Heavy Duty Racking System

Heavy Duty Pallet Racks

Heavy Duty Industrial Racking

Heavy Duty Metal Racking

Heavy Duty Industrial Storage Racks

Heavy Duty Industrial Pallet Racks

Heavy Duty Shelves For Storage

Heavy Duty Steel Racks

Heavy Duty Pallet Racking System

Heavy Duty Pallet Racks

Heavy Duty Industrial Shelving Racks


Options for Customization


Warehouses have special storage needs. A company who provides customization choices can design pallet racks to your unique requirements. Learn how pallet racks may be tailored to meet the specific needs of your warehouse.

Free Installation and upkeep


Recognize the need of good installation and regular maintenance in order to maintain the longevity of your pallet racks.

Price and Cost Effectiveness


Take into account the whole cost of the pallet racks, including shipment and installation. It is critical to find a balance between quality and cost. Examine the expenses of heavy duty pallet racks, including the initial expenditure and long-term savings.

Regulations for Safety


Investigate the safety standards and requirements that companies must follow while employing high duty pallet racks.

Advantages of Heavy Duty Pallet Racks


Investing in large strength pallet racks has various benefits, including:

Maximizing Warehouse Space: Pallet racks allow you to make the most of your available warehouse space by properly using vertical space. 

Pallet racks make things easily accessible, which facilitates better choosing and storing procedures.

Robust racks reduce the possibility of mishaps and item damage, making the workplace safer.

In Conclusion


For any business that depends on efficient storage solutions, selecting the top heavy duty pallet rack manufacturer is essential. Quality of the rack, options for modification, financial considerations, and adherence to safety regulations should all be carefully taken into account. By collaborating with a reputable manufacturer, you can maximize your storage space, safeguard the security of your belongings, and speed up your warehouse operations.
FQA's
Are heavy duty pallet racks appropriate for all types of warehouses?


Yes, heavy duty pallet racks may be adjusted to meet the unique needs of different warehouse types, making them a versatile storage option.

 

How long do heavy duty pallet racks typically last?


The longevity of heavy duty pallet racks is heavily influenced by factors such as material quality, maintenance, and use. They may last for many years if properly cared for.

 

Are high duty pallet racks movable or expandable?


Yes, most pallet rack systems are built to be quickly relocated or extended to meet changing storage requirements.

 

What precautions should be considered while working with heavy-duty pallet racks?


Regular inspections, adherence to weight load limitations, and personnel training are all safety precautions to prevent accidents and damage to goods.

 

How do I choose the best sort of pallet rack for my warehouse?


The ideal pallet rack for you will depend on the area you have available as well as your particular storage needs. Making an informed decision can be aided by a professional assessment and a manufacturer consultation.