Introduction
Warehouses are the backbone of many businesses, serving as storage hubs for products, materials, and inventory. Efficiently organizing and optimizing warehouse space is crucial for businesses to streamline operations and reduce costs. One essential component of warehouse organization is choosing the right heavy duty rack manufacturer. With a plethora of options available, it can be overwhelming to determine which storage racks are best suited for your warehouse needs. In this blog, we'll explore the various types of storage racks and help you make an informed decision on the best storage racks for your warehouse.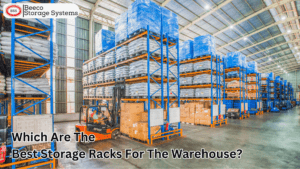 Pallet Racking Systems
Pallet racking systems are among the most popular choices for warehouse storage. They are designed to store palletized goods and come in several configurations, including:
a) Selective Pallet Racks: These racks offer direct access to each pallet, making them suitable for warehouses with high product turnover and a need for quick access to stored items.
b) Drive-In/Drive-Through Racks: Ideal for high-density storage, these racks allow forklifts to drive directly into the rack system, maximizing storage space but reducing accessibility.
c) Push-Back Racks: These racks offer a compromise between selectivity and density, as they allow for multiple pallets to be stored in a single lane.
Cantilever Racks
Cantilever racks are perfect for storing long and bulky items, such as lumber, pipes, and furniture. They feature horizontal arms that extend from a vertical column, providing easy access to items without the need for vertical supports in the front. Cantilever racks are versatile and adjustable, making them a great choice for warehouses with varying storage needs.
Carton Flow Racks
For warehouses dealing with a high volume of smaller items, carton flow racks can be a game-changer. These gravity-fed systems use rollers or conveyors to transport cartons or totes to the front of the rack, ensuring that the oldest stock is used first (FIFO – First In, First Out). Carton flow racks are excellent for order picking operations and are especially popular in e-commerce and distribution centers.
Push-Back Racks
Push-back racks are designed to maximize storage density while providing relatively easy access to products. They work on a "last-in, first-out" (LIFO) inventory system and are suitable for warehouses with a limited number of SKUs. Push-back racks are excellent for storing perishable goods or items with a shelf life.
Mobile Racking Systems
Mobile racking systems are an innovative solution that allows you to maximize your warehouse space by eliminating fixed aisles. These racks are mounted on mobile carriages that move laterally to create an aisle where needed. This space-saving design is perfect for warehouses with limited floor space.
Steel Shelving
Steel shelving units are versatile and can be used in various warehouse settings. They are cost-effective, easy to install, and adjustable, making them suitable for storing smaller items, tools, and equipment. Steel shelving is available in a wide range of sizes and configurations, making it adaptable to different storage needs.
Mezzanine Racking Systems
When you're running out of floor space but have extra vertical space available, mezzanine racking systems come to the rescue. These platforms are installed above the existing floor to create additional storage or workspace. Mezzanine systems are customizable and can be tailored to your warehouse's specific requirements.
Wire Decking
Wire decking is a valuable addition to pallet racks and other storage systems. It provides a stable surface for pallets and prevents items from falling through the rack beams. Wire decking is easy to install, maintain, and allows for better visibility of inventory.
Automated Storage and Retrieval Systems (AS/RS)
In the era of automation, AS/RS has gained popularity in warehouses aiming to maximize efficiency and accuracy. These systems use computer-controlled machines to retrieve and store products in high-rise racks. AS/RS minimizes human intervention, reduces errors, and can significantly speed up order fulfillment.
Choosing the Best Storage Racks for Your Warehouse
Now that we've explored various storage rack options, how do you go about selecting the best heavy duty rack manufacturer for your warehouse? Here are some factors to consider:
Inventory Characteristics: Consider the size, shape, weight, and fragility of your inventory. Some storage racks are better suited for specific types of goods, so choose one that aligns with your products.
Storage Density: Evaluate your space requirements. If you have limited space, high-density storage solutions like push-back racks or mobile racking systems may be the best choice.
Accessibility: Think about how often you need to access stored items. Selective pallet racks offer easy access, while drive-in racks prioritize storage density over accessibility.
FIFO or LIFO: Determine if you need to follow a First In, First Out (FIFO) or Last In, First Out (LIFO) inventory management system. This will influence your choice of storage racks.
Budget: Your budget will play a significant role in your decision-making process. While some systems may offer great advantages, they might also come with a higher initial cost.
Future Growth: Consider your warehouse's future growth and expansion plans. Choose storage racks that can be easily expanded or reconfigured to accommodate changing needs.
Safety Regulations: Ensure that your chosen storage racks comply with safety regulations and codes to maintain a safe working environment for your employees.
Conclusion
Selecting the best heavy duty rack manufacturer for your warehouse is a critical decision that can impact your operational efficiency, storage capacity, and overall productivity. Carefully assess your warehouse's needs, inventory characteristics, and budget to make an informed choice.
Remember that there is no one-size-fits-all solution when it comes to storage racks. Each type of rack has its unique advantages and limitations. It's essential to strike a balance between maximizing storage space and ensuring easy access to goods. Additionally, stay up-to-date with the latest trends in warehouse storage solutions, such as automation and smart technology, to continuously improve your warehouse's efficiency.
At Beeco Storage Systems, we understand the importance of choosing the right storage racks for your warehouse. Our experts can help you assess your needs and recommend the most suitable solutions. Contact us today to optimize your warehouse storage and streamline your operations.